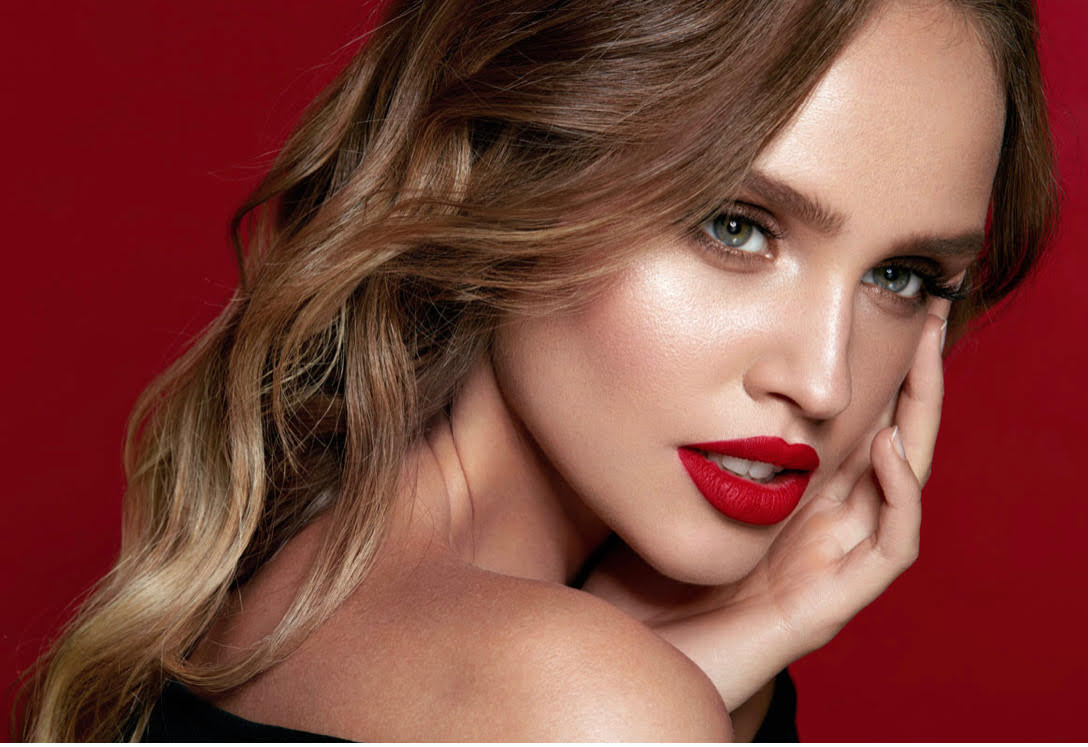 It's the holiday season, which means homes around our neighborhood are decorating rooms and windows with lights, ornaments, and garland!! So, why shouldn't our lips, eyes, and makeup match the festivity of the season??!! Here are a few tips to give you that perfect holiday look!
When it comes to holiday party makeup, a glittery smokey eye, or a glowing golden eye are both right in trend for a holiday party. Begin by priming the eye from lash line to brow bone with an opaque concealer and translucent powder. Next, apply a medium-tone shadow in the crease with a fluffy brush as your transition shade. For a cool-toned look, choose a light gray or smokes mauve, for golden looks, choose a warm-toned orangey-brown or a neutral grey-brown. Make sure you blend well. The transition shade should have a seamless gradual overlap towards the brow bone. The eye shape will determine how high to bring the transition shade. Next, is the fun part…The Glitter!
Spray a dense shadow brush with your favorite hair spray for maximum shine. Choose the texture and tone of your glitter. Choose a depth and texture that matches your skin tone and party dress! For more depth, apply a darker Matt shadow to the corner of the eye, and then finish with a winged gel liner and lashes for a classic twist!
Medium to full coverage is the way to go for any holiday look. Always begin with a smoothing primer, formulated to enhance the longevity of the makeup. Apply the appropriate shade of foundation in a downward motion, preferably with a makeup sponge, blending into the neckline, to ensure an invisible finish. Apply a concealer around the eye area and set it with a translucent powder. Contour with a darker shade in the lower cheek area, and choose a blush shade according to the eye look. To finish the skin, apply a bright highlight to the upper cheek and wherever desired. It's the holidays, so have a little fun with your highlighter!
The signature finish of any holiday makeup is the red lip! The classy pairing to the glittery eye is the matte red lipstick!….or a juicy burgundy looks fabulous with a golden eye! You can choose to line your lips with a liner and then feather the color into your lips. Next, apply a very thin layer of lipstick to the lips with a lip brush. Blot to remove any excess color. Repeat this several times to build thin layers of lipstick and avoid excess color.
Whether you are attending holiday parties this season, or you just feel like adding a little extra fun to your makeup routine, I hope these makeover tips are helpful. If there's one time of year, to rock the red lip, it's during the cheerful holidays! Wishing you a very happy and healthy holiday season!!!